« Return to News
Agrinos' Venkatramesh and Stone Among Featured Speakers at Microbiome AgBioTech Summit
DAVIS, Ca. (March 6, 2018)—Agrinos was among a select group of industry experts speaking at the Microbiome AgBioTech Summit in Raleigh, N.C. on February 26 – 28. The Summit brought pioneers of microbial science together with agriculture's foremost innovators to increase understanding of the complex plant microbiome and the ways microbial-based products are enhancing crop production and sustainability.
Mylavarapu Venkatramesh, Agrinos vice president of discovery research, delivered a talked titled "Enhancing Crop Nutrition by Functional Design of Microbial Consortia." He discussed the role of the soil microbial community in plant nutrition and crop productivity, as well as tools and strategies for designing a microbial consortium based on functional attributes. His presentation is part of a larger conversation around the challenges of consortia and understanding the plant-microbe interaction for precision agriculture.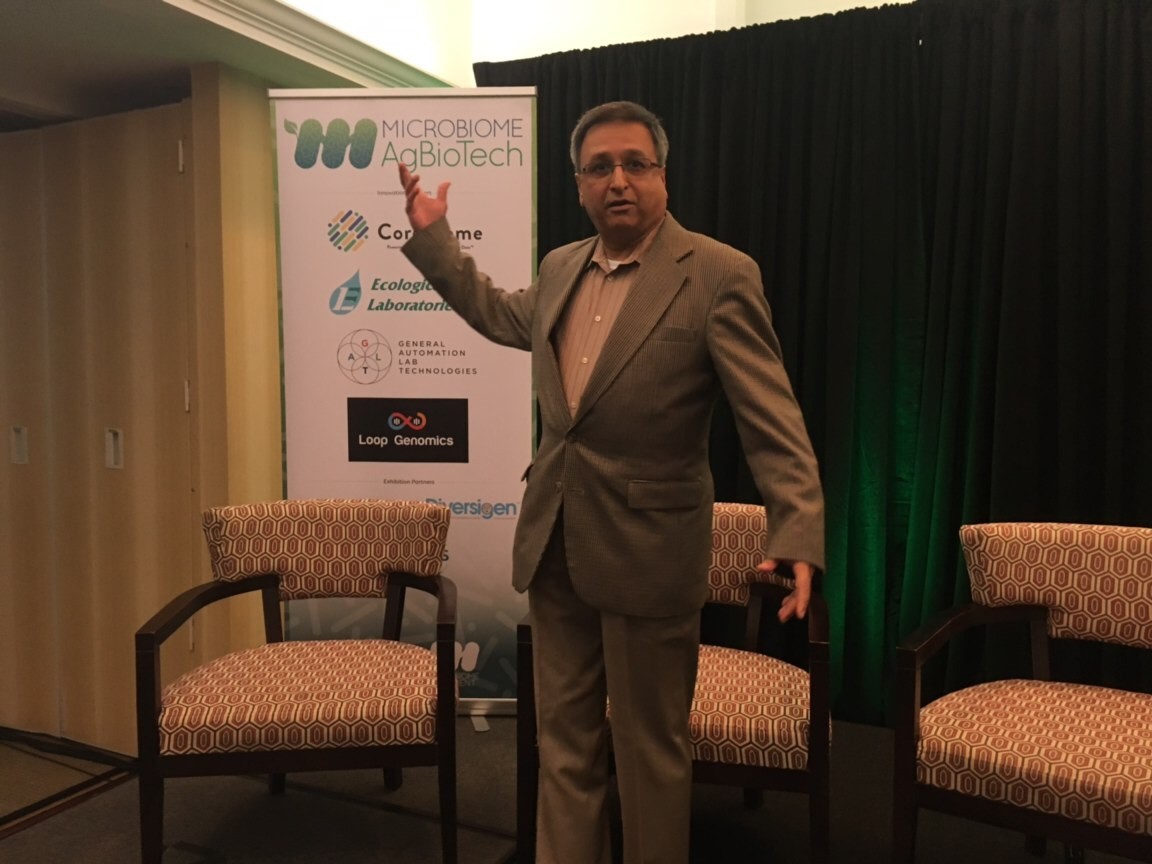 Mylavarapu Venkatramesh, Agrinos Vice President chosen as chair of the 2018 Microbiome AgBioTech Summit
Venkatramesh further served as chairperson for day one of the conference. "Moderating discussions with this group of innovative panelists and facilitating engagement from the audience was particularly rewarding," said Venkatramesh. "There is so much passion and excitement about the emergence of microbials in science and agriculture."
Terry Stone, Agrinos vice president of regulatory affairs and sustainability programs, participated in a panel discussion titled "Understanding the Regulation of Microbial Products to Support Future Agricultural Practice." He addressed the current regulatory environment and ways the system can be improved for future product development. 
"Ensuring we have an adequate and well-established regulatory framework for microbial-based products, along with a clear path to product registration, is critical for the continued growth, adoption and commercial success of microbial-based products," Stone said. "The industry is working together to achieve this outcome."
About Agrinos
Agrinos is a biological crop input provider committed to improving the productivity and sustainability of modern agriculture. Agrinos' range of biofertilizers and biostimulant products help farmers to practice profitable agriculture by providing increased crop productivity, improved efficiency of conventional fertilizer and a reduced environmental footprint.
Based on Agrinos' proprietary High Yield Technology (HYT) platform, the HYT® products provide benefits by strengthening the soil-based microbial ecosystem, stimulating crop development at key points in the growth cycle and boosting natural plant resistance to environmental stresses. With solutions for a variety of crop categories, the technology comprising the HYT products has demonstrated its value in third-party trials in key agricultural regions worldwide
« Return to News