« Return to News
Este contenido está disponible en español e inglés. This article is provided below in Spanish and English.
Agrinos Adds El Surco as New Distribution Partner in Mexico
DAVIS, Calif. (April 23, 2019)—Agrinos is pleased to announce a new distribution partnership with El Surco, a leading agricultural input provider serving growers throughout La Huasteca and other regions in Mexico. El Surco will add Agrinos' High Yield Technology (HYT®) products—MayaMagic 2001, BioAmin and BioQuitina—to its portfolio of crop inputs available to growers.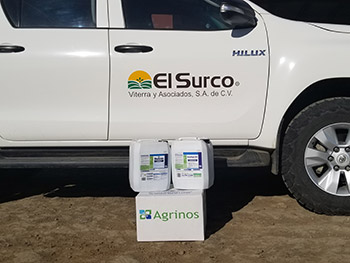 "El Surco is a progressive agricultural input provider that excels in offering complete crop nutritional programs to growers," said Julio Lozano, Agrinos' commercial country manager for Mexico. "We are pleased to have established this partnership with El Surco to help growers optimize soil health, plant productivity and crop profitability."
Agrinos' partnership with El Surco is expected to expand the availability of Agrinos proprietary High Yield Technology formulations to Mexico's growers. It will also increase their access to product technical support and consultation.
Growers using Agrinos products have experienced improved crop health and yield increases. Through its scientific formulations and proprietary co-fermentation process, Agrinos has created a platform of products with a robust consortium of microbes and/or complex blends of critical nutrients. When applied, the products assist in creating an environment favorable for plant growth in both ideal and harsh conditions.
"El Surco is very excited about this new distribution agreement with Agrinos," said El Surco director Gerardo Gutiérrez García. "We recognize the very important synergy between Agrinos' products and our specialization in vegetable nutrition, in particular with the Soludrip® line where the increases in production and plant health have been overwhelming. Results like these improve our customers' profitability and encourage us to continue developing and promoting high technology products for growers."
About Agrinos
Agrinos is a biological crop input provider committed to improving the productivity and sustainability of modern agriculture. Agrinos' range of biofertilizers and biostimulant products helps farmers practice profitable agriculture by providing increased crop productivity, improved efficiency of conventional fertilizer and a reduced environmental footprint.
______________________________________________
Agrinos Agrega a El Surco Como Nuevo Socio de Distribución en México
DAVIS, California (April 23, 2019)—Agrinos se complace en anunciar una nueva sociedad de distribución con El Surco, un proveedor líder de insumos agrícolas que ofrece sus servicios a los productores de La Huasteca y otras regiones de México. El Surco agregará los productos de tecnología de alto rendimiento de Agrinos (HYT®) – MayaMagic 2001, BioAmin y BioQuitina – a su cartera de insumos agrícolas disponibles para los productores.
El Surco es un progresivo proveedor de insumos agrícolas que se destaca por ofrecer a los productores programas completos de nutrición de cultivos, indicó Julio Lozano, director comercial nacional de Agrinos en México. "Nos complace haber establecido esta sociedad con El Surco para ayudar a los productores a optimizar la salud del suelo, la productividad de las plantas y la rentabilidad de los cultivos".
Se espera que la sociedad entre Agrinos y El Surco amplíe la disponibilidad de las fórmulas de tecnología de alto rendimiento de Agrinos para los productores de México. También aumentará su acceso a la consulta y el servicio técnico del producto.
Los productores que utilizan los productos de Agrinos experimentaron mejoras en la salud de los cultivos e incrementos en el rendimiento. A través de sus fórmulas científicas y el proceso de cofermentación patentado, Agrinos creó una plataforma de productos con un sólido consorcio de microbios o mezclas complejas de nutrientes esenciales. Cuando se aplican, los productos ayudan a crear un ambiente favorable para el crecimiento de la planta, tanto en condiciones ideales como agrestes.
"En El Surco estamos muy entusiasmados con esta nueva sociedad de distribución con Agrinos," dijo El Surco director Gerardo Gutiérrez García. "Hemos notado una sinergia muy importante entre los productos de Agrinos y nuestras especialidades en nutrición vegetal, en particular con la línea Soludrip®, donde los incrementos en producción y salud vegetal han sido contundentes. Resultados que mejoran los números de los productores y nos alientan a continuar desarrollando y promoviendo productos de alta tecnología para el campo."
Acerca de Agrinos
Agrinos es un proveedor de insumos biológicos, comprometido con la mejora de la productividad y la sostenibilidad de la agricultura moderna. La gama de biofertilizantes y productos bioestimulantes de Agrinos ayuda a los agricultores a practicar una agricultura rentable al proporcionar una mayor productividad de cultivo, una mayor eficiencia del fertilizante convencional y una menor huella ambiental.
« Return to News