« Return to News
Este conteúdo é fornecido em português e inglês. This content is provided in Portuguese and English. 
Agrinos Adds Grão de Ouro Agribusiness as New Distribution Partner in Brazil
SAO PAULO (October 23, 2018) — Agrinos is pleased to announce a new distribution partnership with Grão de Ouro, a leading agricultural input supplier serving growers in Brazil. Grão de Ouro will add Agrinos' High Yield Technology (HYT®) products—HYT™ A VitaComplex®, HYT™ B AminoVita® and HYT C MaisRaiz®—to its portfolio of crop inputs available to growers.
"Grão de Ouro is a proven leader of agricultural innovation in Brazil and Agrinos is pleased to strengthen our commercial distribution partnership with them," said Fabrício Benatti, Agrinos' executive vice president, Latin America. "Together, Grão de Ouro and Agrinos will bring the benefits of High Yield Technology to the region's growers of soybean, corn, dry beans and coffee among other crops."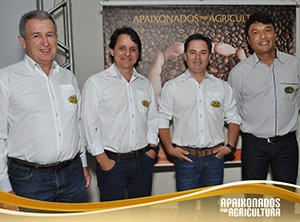 Grão de Ouro Agribusiness was established in Minas Gerais and has now grown to be one of the largest and most important companies in the industry today. The company strives to optimize returns by combining technology and management practices – and their dedicated team of highly trained consultants are passionate about helping growers reach their productivity and profitability goals.
Growers using Agrinos products in Brazil have experienced improved crop health and yield increases. Through its scientific formulation and proprietary co-fermentation process, Agrinos has created a robust platform of biofertilizer products with a complex blend of critical nutrients. When applied, these products can create an environment favorable for plant growth in both ideal and harsh conditions.
About Agrinos
Agrinos is a biological crop input provider committed to improving the productivity and sustainability of modern agriculture. Agrinos' range of biofertilizers and biostimulant products helps farmers practice profitable agriculture by providing increased crop productivity, improved efficiency of conventional fertilizer and a reduced environmental footprint.
______________________
A Agrinos celebra parceria comercial com a empresa Grão de Ouro para distribuição no Brasil
SÃO PAULO (23 de outubro de 2018)—A Agrinos tem o prazer de anunciar uma nova parceria de distribuição com a Grão de Ouro, um fornecedor líder de insumos agrícolas que atende produtores no Brasil. A Grão de Ouro irá adicionar os produtos da Tecnologia de Alto Rendimento (High Yield Technology, HYT) da Agrinos:  HYT™ A VitaComplex®, HYT™ B AminoVita® e HYT C MaisRaiz® a sua carteira de insumos agrícolas disponíveis aos produtores.
"A Grão de Ouro é líder comprovada de inovação agrícola no Brasil e a Agrinos tem o prazer de fortalecer a nossa parceria de distribuição comercial com a empresa", disse Fabrício Benatti, vice-presidente executivo da Agrinos, América Latina. "Juntos, a Grão de Ouro e a Agrinos levarão os benefícios da High Yield Technology para produtores de soja, milho, grãos e café da região, entre outras culturas."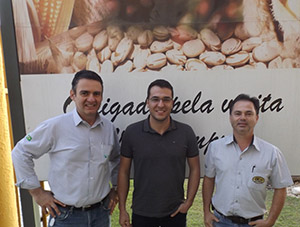 A empresa Grão de Ouro foi estabelecida em Minas Gerais e se tornou atualmente uma das maiores e mais importantes empresas do setor. A empresa trabalha incansavelmente para aprimorar os retornos aos agricultores combinando tecnologia e práticas de gestão – e sua equipe dedicada de consultores altamente capacitados está empenhada em apoiar os produtores a alcançar suas metas de produtividade e lucratividade.
Os produtores que utilizam os produtos da Agrinos no Brasil obtiveram maior vigor das culturas e aumentos de produtividade. Através de sua formulação científica e um processo de cofermentação exclusivo, a Agrinos criou uma plataforma eficiente de produtos biofertilizantes com uma combinação complexa de nutrientes essenciais. Quando aplicados, esses produtos colaboram para um ambiente mais favorável ao desenvolvimento das plantas.
Sobre a Agrinos
A Agrinos é uma empresa de insumos agrícolas biológicos comprometida com a melhoria da produtividade e sustentabilidade da agricultura moderna. A gama de produtos biofertilizantes e bioestimulantes da Agrinos apoia os agricultores a conduzirem uma agricultura mais rentável, proporcionando maior produtividade das culturas, melhor eficiência dos fertilizantes convencionais e menor impacto ambiental.
« Return to News