« Return to News
Agrinos Partner Techwah Celebrates 10-Year Anniversary
Shenzhen, China (March 5, 2019)—Shenzhen Dehua Fertilizer Ltd. (Techwah) celebrated its 10-year anniversary last month. Techwah was founded in 2009 and following ten consecutive years of growth became the leading crop nutrient distributor in southern China.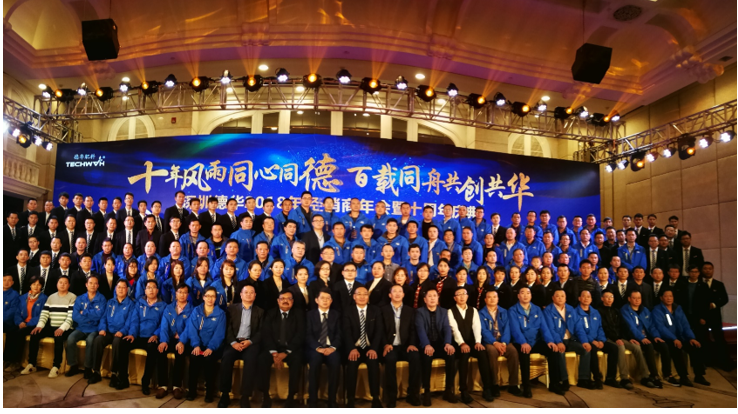 Agrinos and Techwah established a strategic partnership in 2016. This month, Agrinos also celebrates its 10-year anniversary of business operations.
Indranil Das, Agrinos Executive Vice President of Eastern Europe & Asia Pacific, was pleased to attend Techwah's celebratory meeting earlier this year. Agrinos presented its portfolio of proprietary High Yield Technology (HYT®) biological crop solutions to more than 200 guests. Techwah has helped Agrinos deliver its unique offering to farmers growing a wide variety of crops across the country.
"We view Techwah as a long-term partner for Agrinos," said Das. "Over the past three years, our collaboration has proven to be very successful for both parties and we look forward to working with Techwah in the coming years to deliver our state-of-the-art products to growers throughout China."
"There is an urgent need for soil improvement in China," said Mr. Peijin Sun, General Manager of Shenzhen Techwah Fertilizer Co. Ltd. "Sustainable agriculture is especially important for a country like China due to its large population. Agrinos products are a good fit in the soil improvement segment, and our collaborations are bringing significant benefits to Chinese farmers."
Based on Agrinos' proprietary High Yield Technology (HYT) platform, the HYT products provide benefits by strengthening the soil-based microbial ecosystem, stimulating crop development at key points in the growth cycle and boosting natural plant resistance to environmental stresses. HYT products from Agrinos have demonstrated their efficacy and value in hundreds of third-party trials in key agricultural regions worldwide.
About Agrinos
Agrinos is a biological crop input provider committed to improving the productivity and sustainability of modern agriculture. Agrinos' range of organic biofertilizers and biostimulant products are innovative by nature, improving the efficiency of conventional fertilizers and many other crop inputs.
« Return to News