« Return to News
California Almond Trials Demonstrate Yield Advantage with Proprietary Liquid Microbial Formulation HYT A
DAVIS, Calif. (June 7, 2018)— Results from recent field trials conducted at two locations in California confirm positive harvest treatment effects of HYT® A on almond trees. (HYT A is also sold as iNvigorate® in the United States). 
"These trial results reflect the benefits HYT A can provide to almond production, leading to higher yields of almond meat and nuts," said Dr. Michael Austin, Agrinos head of global agronomy. "The increased productive capacity of trees can be seen in tangible, calculable gains for the crop and for growers."
Field studies conducted from October 2016 to August 2017 in Madera County, California, showed that 6-year-old nonpareil almond trees treated with HYT A injected via drip irrigation post-harvest outproduced trees treated with a competitor's biological product by 16 percent (Figure 1). HYT A was applied at two quarts per acre, compared to the normal competitive product application rate of 50 gallons per acre. 
The HYT A-treated plots also bested trees in the farmer standard control plots by 33 percent for almond nut meat yield. The trials were administered by third-party research firm Pacific Ag Research.
Figure 1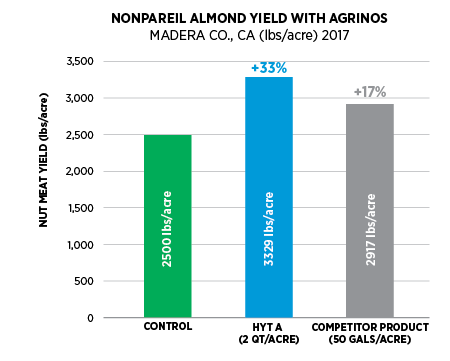 Results from a second location in Terra Bella, California, on trials conducted from October 2016 to August 2017, indicated HYT A drip irrigated applications boosted almond nut meat significantly (P<0.05) by 18 percent above the farmer's standard control program (Figure 2). These trials, administered by Research4Hire, were conducted on nonpareil almonds using a rate of 2 quarts per acre post-harvest. 
Figure 2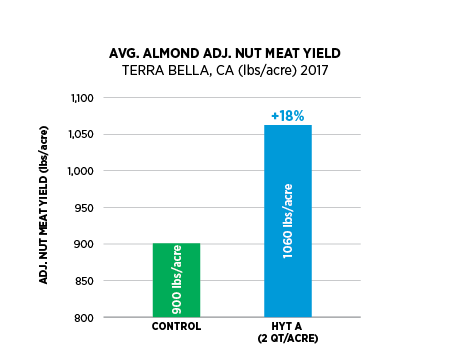 Another measurable difference was detected at the same Terra Bella location with an increase in the number of flower buds produced, the growing phase that influences crop production for the upcoming almond season. Trees in plots treated with HYT A applied through drip irrigation post-harvest at the rate of 2 quarts per acre produced 12 percent more flower buds than those treated with the grower standard control (Figure 3).
Figure 3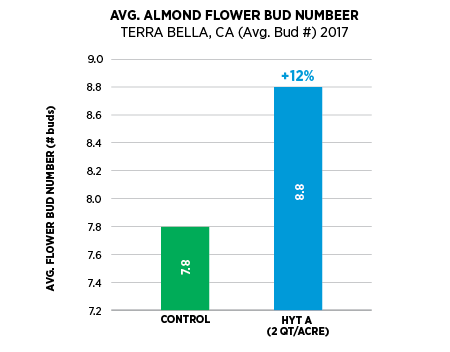 "Growers seeking to maximize their almond nut production in California's rich soils, mild winters and abundant sunshine should consider HYT A as an important component for enhancing orchard productivity," said Austin. 
About Agrinos
Agrinos is a biological crop input provider committed to improving the productivity and sustainability of modern agriculture. Agrinos' range of biofertilizers and biostimulant products help farmers practice profitable agriculture by providing increased crop productivity, improved efficiency of conventional fertilizer and a reduced environmental footprint.
Based on Agrinos' proprietary High Yield Technology (HYT) platform, the HYT® products provide benefits by strengthening the soil-based microbial ecosystem, stimulating crop development at key points in the growth cycle and boosting natural plant resistance to environmental stresses. With solutions for a variety of crop categories, the technology comprising the HYT products has demonstrated its value in third-party trials in key agricultural regions worldwide
« Return to News